Absa Cape Epic Qualification
Five Pair entries for the Absa Cape Epic have been set-aside exclusively for Cape to Cape Pairs. 
You have an opportunity to purchase an entry through a draw.

About the Absa Cape Epic
The Absa Cape Epic is held over 8 days in March every year, covering approximately 700 kilometres with 15,000m of climbing in South Africa's Western Cape.
Every year, the early bird entries sell out faster than you can say 'Indwa' (the Zulu name for South Africa's national bird, the Blue Crane). But, as an entrant in Cape to Cape, you have the unique opportunity to purchase an entry through a draw for yourself and your partner.
What you have to do 
To qualify for one of the entry slots, you will need to register your interest on your pair Active registration form prior to the race (only available to pair riders). If you forgot to tick that box and would like to register your interest you can email us at capetocape@ironman.com.
Need more time to consider the challenge? You can still sign up at the event by seeing the crew at Information until the evening of stage 2.
Qualification Guidelines
View the Pairs Race Rules here. To be eligible to race 2024 Absa Cape Epic you must be 18 years of age as at 2022 Stage 1 date.
A number of pair entries will be allocated to the 2024 Absa Cape Epic through two ways; Wildcard Entry and Draw Allocation.
Overall Men & Overall Women - Wildcard Entry
The overall men's and women's winning pairs qualify for a guaranteed wildcard entry into the Absa Cape Epic. This must be requested via email to registration@cape-epic.com within 7 days of winning the Cape to Cape.
Any professional UCI registered rider may apply via the Absa Cape Epic wildcard system, but entries are offered at the sole discretion of the Absa Cape Epic organisers.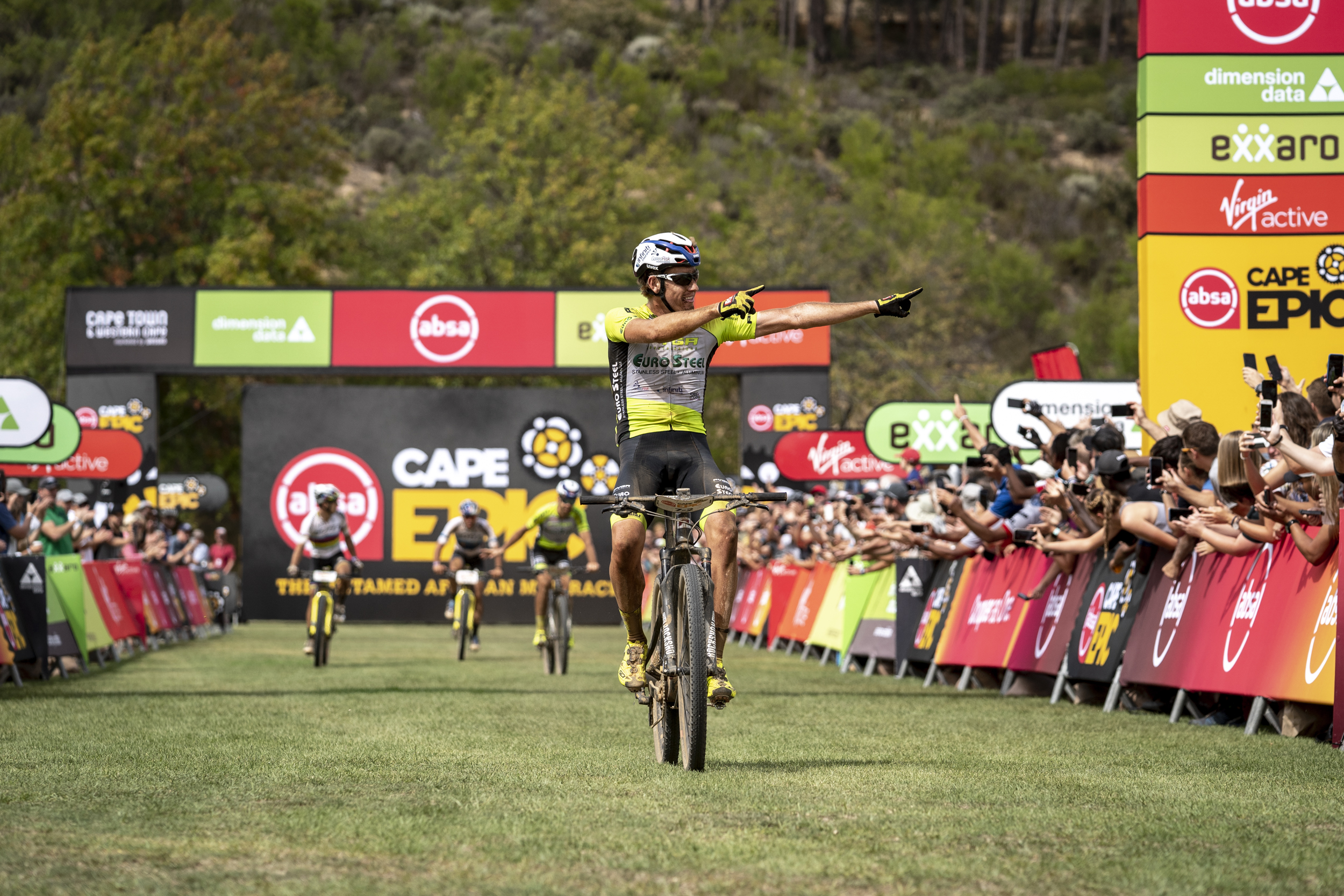 Draw Allocation
The Draw Allocation provides the opportunity to purchase one of five guaranteed 2025 Absa Cape Epic entries. These will be drawn at Stage 4 Cape to Cape final awards presentation.
Draw Allocation is eligible to Cape to Cape 4-day Pair riders only (i.e. excludes 4-day solo).
The Draw Allocation slots are per individual within a 2-person pair. The individual is free to choose any partner, i.e. it is not necessary that his/her partner participated in Cape to Cape.
Riders must register their interest during the online registration process or from your MyEvents account in active.com at a later date. 

Riders must be present at the final awards.

Should a rider decide not to take up the entry or not be present at the final awards ceremony, the entry will be re-drawn at the time of the awards ceremony.

A non-refundable deposit of $100 USD per guaranteed entry must be made to secure the entry. This deposit will be deducted from the entry fee.
The team entry fee for the 2025 Absa Cape Epic will be announced in March 2024. Riders will be emailed details on how to complete the payment.
All entries are for the 2025 Absa Cape Epic and cannot be transferred to another year. Once payment has been received, the standard Absa Cape Epic cancellation policy applies.